Telepsychiatry Services in Tolleson, AZ
Meet with mental health specialists virtually, thanks to innovative technology. Talk to our team of healthcare professionals at Jade Health and Wellness about our telepsychiatry services. For more information

call us

today. We are conveniently offering

virtual appointments

. Check out our

special offers

for non-insured and self-pay patients.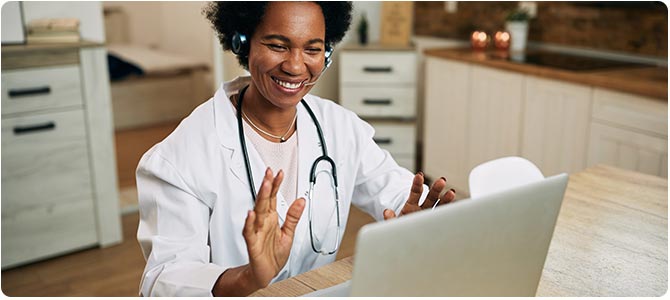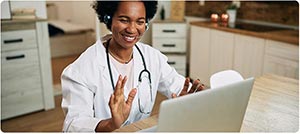 Table of Contents:
Can you see a psychiatrist virtually?
How can I get psychiatric help online?
What are the benefits of telepsychiatry?
How can I book a tele visit?
Can you see a psychiatrist virtually?

You can schedule virtual appointments with a psychiatrist through Jade Health and Wellness Center's website. With virtual appointments you can now meet with mental health specialists from your own home, offering greater comfort and convenience. Services from Jade Health and Wellness include treatment of depression, stress, anxiety, CBT, eating disorders, mental health issues, OCD, PTSD, borderline personality, panic disorders, bipolar disorders, ADHD, social phobia, and more.
How can I get psychiatric help online?

Arizona and Las Vegas, Nevada residents can schedule online psychiatric help for the highly qualified Dr. Courtney Gaines, DNP PMHNP-BC. Dr. Gaines offers more than 10 years in the behavioral health field of expertise. Dr. Gains prioritizes active listening and cooperation so she and her clients can work as a team.

Dr. Gaines offers both talk therapy and cognitive-behavioral therapy (CBT). CBT is a psychological treatment proven beneficial for a range of mental health problems. Research studies demonstrate it leads to significant quality of life improvements. CBT functions to reset harmful and unhelpful behaviors and ways of thinking. CBT helps individuals conquer their illness by becoming their own kind of therapists by developing valuable coping skills and more productive mindsets. Appointments can be made for online therapy or online psychiatric help through Jade Health and Wellnesses' website, so reach out to us today for support.
What are the benefits of telepsychiatry?

Telepsychiatry has several benefits stemming from the convenience afforded to clients. Up to 50% of healthcare patients struggle to attend traditional in-office appoints, a big barrier to access is time and transportation concerns and costs. With telepsychiatry services patients can attend appointments without carving a chunk of time out of their day to drive, or even a lengthy transit route, to their appointment. Telepsychiatry offers a higher accessibility rate to critical mental health services. Patients can return to their day-to-day errands immediately after the appointment, considerably lessening the burden of a time-consuming in-person visit.

Patients can also attend appointments from a space they are comfortable in and avoid spending excessive time in a crowded waiting room.

Those who combat mental health issues may often struggle to enjoy activities, suffer dissatisfaction in-person relationships, uncertainty about the future, heightened stress, and even experience feelings of hopelessness. When left untreated, mental health conditions may get worse, and lead to more worsening conditions, like the breakdown of relationships, greater risk of addictions, decreased overall quality of life, and more. It is important to seek professional help when dealing with a serious mental health condition. The psychiatrist works to guide patients in a non-judgemental way back to their healthy state. It is an open and confidential space where your concerns and stressors can be discussed in a relaxing environment.

Seeing a psychiatrist can benefit clients in several ways, among them are an ability to confront fears and come to terms with reality, control emotions, overcome past trauma, develop trust and be able to solve personal issues, build confidence, make improvements to both their personal and professional life, and return to a healthy state.
How can I book a tele visit?

You can book a tele appointment with Jade Health and Wellness Center by selecting the "Appointments" button at the top center of our website. You will be taken to an appointments page and fill out a simple online booking form that will take no more than one minute. Jade Health and Wellness are actively exploring and learning the best skills and therapy methods to improve patient care. Staffed by a professional team with a remarkable skill set, Jade Health and Wellness puts understanding and caring for clients' needs and wellness at the forefront of everything we do. For more information, call us today. We are conveniently offering virtual appointments. We serve patients from Tolleson AZ, Avondale AZ, Phoenix AZ, Buckeye AZ, Yuma AZ, Tonopah AZ, and Las Vegas, NV.