Psychotherapy (Talk Therapy) Specialist in Tolleson, AZ
According to

The National Institute of Mental Health

, psychotherapy, also known as talk therapy, can be a substitute for medications. Psychotherapy is beneficial for depression, bipolar disorder, PTSD, and other severe and mild mental health issues. Dr. Courtney Gaines, a psychiatric nurse practitioner at Jade Health and Wellness offers online psychotherapy. Dr. Courtney Gaines has completed a doctorate in nursing from Idaho University and has been working in the field of behavioral health for ten years. Our Psychotherapy Specialist will talk with you about previous traumas and psychiatric conditions to treat, evaluate, and diagnose various mental health conditions using talk therapy. For more information,

contact us

today. We are conveniently offering

virtual appointments

. Check out our

special offers

for non-insured and self-pay patients.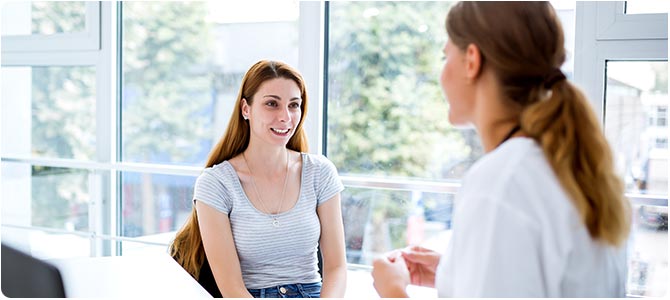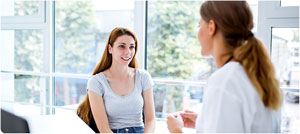 Table of Contents:
What does talk therapy include?
What are the types of talk therapies?
How do you prepare for a talk therapist?
How many sessions do you need for talk therapy?
Talk therapy is a form of psychotherapy in which a mental health professional uses one-on-one conversations to help a person improve their mood, emotions, behavior, and/or stress levels. A mental health professional who practices talk therapy is called a psychotherapist. The goal of talk therapy is to help a person improve their mental health by developing healthy behaviors and attitudes. During talk therapy, the patient often shares his or her innermost thoughts and feelings while the therapist provides guidance and support to help the patient work through issues.
What does talk therapy include?

Therapy can take many forms, but the most common type is called "talk therapy," a form of psychotherapy. In this type of therapy, a counselor will help the patient work through their feelings and problems by talking about them with the patient. Talk therapy is designed to create an accepting and non-judgmental environment, where people can let go and be themselves without the pressure to be faultless. Talk therapy involves discussing problems with a professional, rather than working through them alone. Some talk therapists specialize in a particular type of therapy, such as cognitive-behavioral therapy or dialectical behavior therapy. The therapist will work with each patient to identify the problems in their life that are causing stress or anxiety and then work together to develop a plan to address those problems. This may involve learning new skills, such as how to deal with difficult conversations, or developing healthier behaviors, such as exercising regularly.
What are the types of talk therapies?

Talk therapy is available in a number of different formats; the most popular include:

• Psychoanalysis — The original talk therapy, which was created by Sigmund Freud, is based on the theory that people are moved to act by impulses that originate in their subconscious. During psychoanalysis, the patient is invited to talk to the therapist about whatever comes to mind; by listening to the patient, the therapist can help identify the recurring themes in the patient's life that may be the source of negative feelings.
• Psychodynamic Psychotherapy — Compared to psychoanalysis, the therapist is more actively involved with the patient in psychodynamic therapy. While it is similar in terms of approach, the treatment in psychodynamic psychotherapy is typically briefer than psychoanalysis. For individuals with relationship problems or deep psychological wounds from their past, psychodynamic therapy can be especially beneficial.
• Cognitive Behavioral Therapy (CBT) — Using a highly structured, symptom-reducing approach, cognitive behavioral therapy is the most popular form of talk therapy today. It focuses on thoughts and behaviors and aims to provide quick relief from symptoms in a relatively short period of time.
• Dialectical Behavioral Therapy (DBT) — This form of talk therapy integrates change-based and acceptance-based techniques in order to help patients focus on changing their behavior while simultaneously accepting the reality in front of them. It was the first psychotherapy to incorporate mindfulness as a core component, making it unique from other forms of therapy.
How do you prepare for a talk therapist?

There are several things a person can do to prepare for their visit with a talk therapist. The first thing they may want to do is elucidate their reason for going to therapy and expand on it in as much detail as possible. It can also help to prepare a list of questions for the therapist, both about the practices of the office and the contents of the therapy.
How many sessions do you need for talk therapy?

The number of sessions a person needs for talk therapy is different in every situation and is based upon a variety of factors, including:

• What issues the patient is experiencing
• The type of therapy they are undergoing
• The expectations of the therapy
• The patient's dedication and determination
• How the patient responds to the therapy

In most cases, it takes multiple therapy sessions to resolve problems; the more severe the problems and the longer they have been going on, the more sessions they will likely take to resolve. If you are looking for a qualified and experienced talk therapist, trust the professionals at Jade Health and Wellness Center. We are one of the few clinics in Tolleson, AZ to exclusively offer teletherapy services. For more information, call us today. We are conveniently offering virtual appointments. We serve patients from Tolleson AZ, Glendale AZ, Peoria AZ, Arizona AZ, Avondale AZ, and Phoenix AZ.