Teletherapy Specialist in Tolleson, AZ
Dr. Courtney Gaines and her experienced team at Jade Health and Wellness offer convenient and easily accessible mental health care. For more information,

call us

today. We are conveniently offering

virtual appointments

. Check out our

special offers

for non-insured and self-pay patients.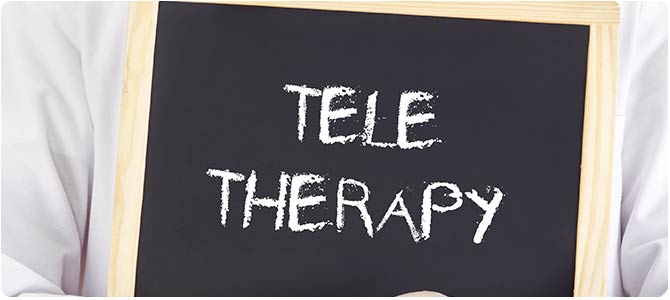 Table of Contents:
What is a teletherapy session?
How is teletherapy done?
Why is teletherapy important?
What are the benefits of teletherapy?
With the advent of COVID, doing life online has become more and more common. This has given more people access to information and help that they may not have had before. It has made access to people and businesses in other parts of the country and the world easier. It has also made it easier for people who have struggled to be out in public.
What is a teletherapy session?

Teletherapy is the term used to describe therapy or counseling that is done over the phone on through a platform on your computer through the internet. 

Through teletherapy, consultations take place remotely, using a computer, laptop, or some kind of tablet or iPad. This works best if you have access to high-speed internet. Secure live video chat formats allow for a safe place to talk. 

Because of the need for videoconferencing in the last few years, the software has improved greatly and many therapists and patients are taking advantage of this. It makes the sessions very convenient for doctors and clients. The research that has been done in this area shows that it works as well as in in-person counseling.
How is teletherapy done?

Teletherapy is done through a secure videoconferencing tool, a web portal via the internet, or mobile phone access.

Sessions are much the same as face-to-face sessions. Patients schedule an appointment with the therapist, as they would for an in-person visit. The patient needs to plan and make sure they are ready for the appointment. If it is their first meeting, they will need to make sure that the app or website they are using works properly on their device. The difference is, you don't have to get in your car and go to the office. This can be done from the comfort of your own home.

Teletherapy allows for other kinds of sessions, as well. It can be a one-on-one session or it can be group sessions, family sessions, or marriage counseling. The benefit of these group settings is that it is easier to bring together people who don't live in the same geographic area. The sessions happen as if everyone is in the same room.
Why is teletherapy important?

Teletherapy has gained in its importance because of what it is. Research shows that it can be as effective as meeting in person. It gives patients more access to counseling than they have had before. It is easier to find one that you can work well with, even if they practice in a place that isn't geographically close to you. 

People who have disabilities now have easier access to care. It is a wonderful option for people who may have limited access to leave their homes, whether due to a physical disability or social anxiety issue. Having this available gets people the care they may otherwise not be able to get.
What are the benefits of teletherapy?

The most important benefit is that teletherapy works well. Research is being done and providing us proof that this is the case.

Teletherapy has shown to be more cost-effective for counselors and patients alike. Reducing the costs of travel to and from the office, for some, the costs of child care or the need to take less time off of work add to the reduction of costs.

People who have used teletherapy have stated that they are quite happy with it. People also feel that it gives them more privacy, which makes them more comfortable getting the help they need. Then, as we have seen in recent years, the added benefit of protecting your physical health by not being out where contact with infection can become more likely.

Teletherapy is a growing area and one that is showing it is needed.

Jade Health and Wellness offers the following teletherapy services:

• ADHD/ADD Treatment
• Anxiety Disorders Treatment
• Bipolar Disorder Treatment
• Borderline Personality Disorder
• Cognitive Behavioral Therapy
• Depression Disorders Treatment
• Eating Disorder Treatment
• Grief Therapy
• Life Coaching Services
• Men's Mental Health Care
• Mood Disorders Treatment
• OCD Disorders Treatment
• Panic Disorders Treatment
• PTSD Disorders Treatment
• Social Phobia Treatment
• Stress Disorders Treatment
• Talk Therapy
• Women's Mental Health Care

Jade Health and Wellness offer teletherapy sessions. Reach out to get help by simply calling or booking a teletherapy session online. For more information, call us today. We are conveniently offering virtual appointments. We serve patients from Tolleson AZ, Glendale AZ, Peoria AZ, Arizona AZ, Avondale AZ, and Phoenix AZ.